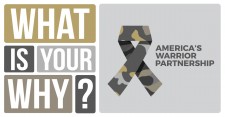 Washington, DC, November 7, 2016 (Newswire.com) - ​​America's Warrior Partnership, a national nonprofit dedicated to helping local communities empower veterans, has been impressed with the reasons people give when they are asked why they support veterans. So, to honor veterans this year, America's Warrior Partnership is launching a social media campaign designed to give everyone a chance to share who or what is behind their WHY.
Some people choose to serve or support veterans because they are veterans themselves.  Others may have a friend or relative who serves or has served.  Still others see the value in our armed forces and want to acknowledge the sacrifices of those who serve. Every answer is personal and unique but the goals are the same:  stronger communities, supported veterans, and a stronger nation. What is your WHY?  Why do you support veterans?
My WHY is that I learned to serve from my examples shared through my life by beloved family. When it came my turn to serve, I never imagined I'd develop such deep friendships and ties to those I served with all over the globe. I learned what my family knew. You serve for the men and women to your right and left. You do everything you can for them, everyday, no matter the task. Serving is second nature to me and to everyone who raised a hand to serve in our great military. That is my WHY.
Share your reasons with America's Warrior Partnership by going to their FaceBook page at facebook.com/AmericasWarriorPartnership or tweet your reason to @AWPartnership.
Source: America's Warrior Partnership