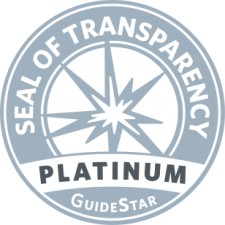 -- Platinum Seal recognizes nonprofits that prioritize transparency in sharing information and metrics so donors can focus on progress and results --
WASHINGTON, April 24, 2019 (Newswire.com) - America's Warrior Partnership today announced that it has received a 2019 Platinum Seal of Transparency from GuideStar, the world's largest source of nonprofit information. The Platinum Seal is the highest level of recognition given by GuideStar to organizations that have demonstrated a commitment to transparency in their operations.
"Collaboration is one of the core tenets of our philosophy at America's Warrior Partnership and we believe transparency is essential for building the most effective partnerships within a community," said Jim Lorraine, president and CEO of America's Warrior Partnership. "It is an honor to be recognized by GuideStar for our continuing dedication to clear and open communication."  
America's Warrior Partnership achieved the Platinum certification level by maintaining a thorough overview of its funding, goals, strategies, activities and results on its GuideStar profile page. The nonprofit's profile page includes a comprehensive breakdown of its 2018 accomplishments, including the collective impact of its programs for the year in serving 8,345 veterans, family members and caregivers.
Additional highlights include the launch of four new programs: The Network, a digital coordination center that provides veteran-serving organizations with a connection to national resources; The Four Star Alliance, a membership program of organizations that provide adaptive sports and therapeutic recreation programs to veterans and their families; Operation Deep Dive, a first-of-its-kind research collaboration examining the community factors involved in suicide among veterans; and The Corporate Veteran Initiative, a program that guides businesses towards improving their engagement and retention of military veteran employees.
For more information on America's Warrior Partnership, visit www.AmericasWarriorPartnership.org/About/Transparency.
About America's Warrior Partnership
America's Warrior Partnership is committed to empowering communities to empower veterans. We fill the gaps that exist between current veteran service organizations by helping nonprofits connect with the veterans, military members and families in need: bolstering their efficacy, improving their results and empowering their initiatives. America's Warrior Partnership is a force multiplier for warrior community integration that enhances communities where great Americans choose to live and contribute. For more information on the organization and how to get involved, visit www.AmericasWarriorPartnership.org.
Media Contacts:
Joe Wolf, Dalton Agency
904.910.4454; jwolf@daltonagency.com
​Anthony Popiel, Dalton Agency
404.876.1309; apopiel@daltonagency.com
Source: America's Warrior Partnership
Share: